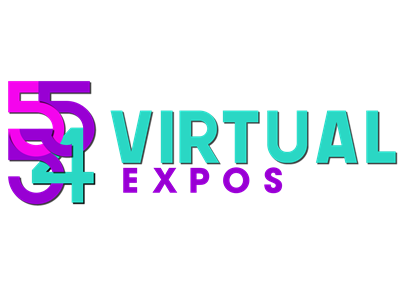 Using social media to launch a brand – the 5554 Virtual Expos
When Visually Explained Managing Director Yola O'Hara joined forces with David Lattimer, of Redro, to create a new breed of online business expo, the challenge was marketing the event and attracting visitors and exhibitors, when the brand and concept were new and unknown.
Background to 5554 Virtual Expos
Yola and David wanted to create a new type of expo, stripping away many of the features that complicate face-to-face expos, to focus on what's important: doing business and providing more space and time to showcase exhibitors' brands.
The expo's name was inspired by the numbers of Visually Explained and Redro's adjoining offices suites at Bowman House Business Centre – 55 and 54 – and the first event was planned for February 2021.
But a strategy was needed to promote the expo, which was effectively a start-up venture with no presence in the market; to create a buzz and interest the event, encouraging exhibitors to book stands and visitors to register.
The plan was to spearhead the marketing with a social media campaign, delivered by Visually Explained, coupled with email marketing, networking and PR.
Deploying social media to promote 5554 Virtual Expos
We took on 5554 Virtual Expos as a Virtually Explained client, providing a fully outsourced social media solution.
First, we selected the most appropriate social media platforms for the expo – LinkedIn, Instagram, Twitter and Facebook – and created new accounts and profiles.
We set up an events page for the expo on LinkedIn and Facebook, directly inviting people to sign up or register an interest. LinkedIn proved the most effective avenue for invitations, with a 12.5 per cent conversion rate. Indeed, we concentrated our main efforts on LinkedIn, because our experience at Visually Explained has shown this to be the best platform for B2B social media.
Over the course of three months, we raised the profile of 5554 Virtual Expos, mixing our posts with event information, showcasing exhibitors, using video and written content, and increasing engagement.
We supported this social media lead generation activity with email marketing. We also used PR to gain editorial coverage and Yola networked extensively to promote the new venture.
We ensured our social media appealed to both audiences: to potential visitors and to business people wanting to book a stand. We also signed up sponsors, in Bowman House and Thames Valley Chamber of Commerce – indeed we even came to the attention of the Arab British Chamber of Commerce, thanks to our promotional activities.
As a client of Visually Explained, 5554 Virtual Expos paid for the outsourced social service media, generating a revenue.
Outcome and feedback on 5554 Virtual Expos campaign
The expo was a huge success. We attracted 25 exhibitors – who on average picked up 14 leads from the event – with more than 100 visitors, brought in from far flung locations in the UK and Europe.
We had some wonderful comments during and after our first expo, including:
"Well done Yola, great event."
"Such a great event. We are busy connecting with lots of new people and saying hello to many others as well."
"This is sooo much easier than having to put up a pop up banner which then breaks!"
Following on from the success of the first Expo 5554, a second is already being planned for February 2022. Contact us to find out more about becoming an exhibitor, registering as a visitor, or booking a stand.
To find out more about our full outsourced social media solution for your business, please get in touch.
5554 Virtual Expos on Social Media
It was exciting to be one of the exhibitors at the inaugural The 5554 Virtual Expo. Being a virtual exhibitor was a new experience for me as I'm sure it was for many but it proved to be a rewarding one. The event was very well organised by Yola and David, who communicated regularly before the big day and quickly responded to queries. They also held an exhibitors' virtual meeting to explain how The 5554 Virtual Expo was going to work and I found this very useful.
The 5554 Virtual Expo had many advantages of an in-person expo, for example, the ability to talk with delegates and other exhibitors but using video and messaging of course. But being virtual the event provided unique advantages too, such as plenty of time to prepare your virtual stand. This proved to be straightforward and not as time-consuming as I thought, as clear instructions were provided on how to brand your stand, add videos and details of services.
All in all, it was a productive day with many useful connections and leads obtained both during and after The 5554 Virtual Expo. If I hadn't known, I wouldn't have guessed that this was the very first The 5554 Virtual Expo. For those wanting to make new connections and win new business, I'd recommend any freelancer or small business to take a stand at the next one.
When Covid took a hold, and we were all told to stay at home I knew that there were interesting times ahead for my business. I regularly attended business expos in Swindon, Bristol, Gloucester and elsewhere across the region. Networking, making new contacts, exploring new opportunities, generating leads to follow up etc and all of these opportunities instantly disappeared.
When I became aware of virtual business expos I thought "what a great idea, what a wonderful opportunity" and so when I heard of 5554 Virtual Expos, I had to give it go. And I'm so glad I did. I may never go back to a traditional expo again. No travel time, no setting up of physical stands, no collateral and freebies required……just a great way to display and promote my business, meet new people and start building my opportunities list again.
I had a stand at the virtual 5554 Expo event on 25 February 2021 and was awfully glad I did.
Initially, I assumed the technology would be too challenging for me to set up my virtual stand, but I was wrong.
David Lattimer who jointly organized the event was marvellous and assisted me with a step-by-step guide which was extremely easy to follow.
I enjoyed the day very much and, according to the statistics provided to stand holders after the event my stand had the most visitors/clicks which was amazing.
I would recommend to any business to book a stand at the next event planned for in September 2021, it's not only fun and connects people but it gives you an insight into what other similar businesses are doing in a virtual world and expands your own mind to possibilities for your business – like having a video to promote your business which is now something I am now looking at.
Thank you so much, David.
I found this Expo incredibly refreshing, fun and productive. I loved the virtual element and the fact that you could dip in and out without spending the whole day at the Expo so I was still able to work and see clients. The Expo itself was very well organised, the talks were informative and I made some great new business connections who were not local to my area. I would certainly recommend attending the next Expo, either as a visitor or taking a virtual stand. This does seem like the future of Expos and it was so great to network from the comfort of my own home!
Register to attend the next 5554 Virtual Expo