Whether you are new to social media or have been posting for some time, the landscape is forever changing, and there are always ways to improve your strategy.
One area that businesses often overlook, or don't use effectively, is hashtags. There are four elements to a social media post, and all play an important part.
An eye-catching image, which will make people stop scrolling and pay attention to your post – we wrote about this previously
Well written, not too long text, that appeals to your audience
A call to action: what do you want people to do? You might want to include a link they can follow back to a blog on your website, or remind them to contact you
Effective use of hashtags.
So what are hashtags?
A hashtag is a word or phrase preceded by the hashtag (#) symbol and their use indicates that they relate to a particular topic.
For example #engineeringUK means, to readers, that the post is about something related to engineering in the UK.
Users will notice tags being used on profile pages and in 'bio' or 'about' sections, and this enables businesses to be found more easily by customers or people with shared interests, based on which tags they use.
The take away from this is, if you want to boost the visibility of your business, using the right tags is important as any words or phrases with a hashtag become live links which are detected by the platform algorithms. Tags become clickable links – click, and posts that are related to that tag can be found.
Now you have found your audience, you may wish to engage with them by liking their posts or by 'following' them to see their future activities, or even by sending them a direct message to engage in a more direct conversation. This is how, by starting with an innocuous #tag, you can find suppliers, employees, buyers and business associates.
Once you have clicked through, you might also decide to follow this hashtag, so any new posts using it will be put in front of you.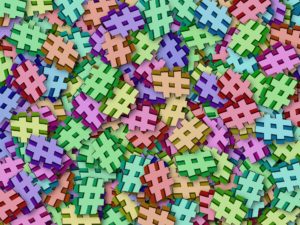 How to choose hashtags
That's the mechanism but, as with most things, there is a bit more to it than that, because you need to pick your hashtags wisely.
Let's take the example of engineering, because at Visually Explained we work with many engineering companies who look to social media for building brand awareness.
If we put into a post #engineeringat35bricklanelondon then there is a fair chance this will only ever be used by us. It's too specific, too many words put together so it's very unlikely anyone will ever search and follow it.
At the opposite extreme, we could use #engineering. But a quick search on Instagram, for example, shows 11.2million posts (so far!). If we use only this hashtag, we'll be lost in the crowd and it would be hard to attract and engage people.
The best approach is to select relevant search terms but narrow the field. An example might be #engineeringUK, which has fewer than 18,000 posts or #techUk with 2,200 posts. Best practice is to use a combination of #tags with a range of popularity but we would recommend picking #tags with no fewer than 1,000 posts. Think about it in terms of your post's longevity.
Hashtag Tips:
We always advise keeping the tags within the post content, not in the post comments as this myth has been debunked recently by Instagram itself. Tags need to be in the content to be picked up by the algorithms. Think about in terms of your post longevity.
As with any social media marketing, measure what is working and what isn't. If your most popular posts always contain certain hashtags, then use these and drop ones which don't seem to be engaging an audience.
At Visually Explained, we work with businesses across a range of sectors and especially enjoy helping companies in the engineering, tech and construction sectors.
If you're in engineering, tech or construction, and you are just starting out on social media, or know you need a social media strategy but don't know where to begin, or if you simply want to outsource this part of your marketing to social media specialists, then please get in touch.