As specialists in social media for the engineering, construction and manufacturing sectors, we have been asking ourselves why we love working in this area.
Then we had a lightbulb moment: it's down to the upbringing and career background of our Chief Social Media Engineer and Visually Explained founder, Yola O'Hara.
So, we've been chatting to Yola about WHY she loves engineering, construction and manufacturing, and is in her element when visiting tech/engineering expos.
What attracted you to the engineering, construction and manufacturing sectors?
I love the challenge of working in these sectors. Engineering is a huge and well-established market but has been slow to move into the digital age and late coming to social media.
They are used to doing business face-to-face, without the need for digital marketing, so we need first to overcome the hurdle of educating the client in the value of social media.
As we've written in our blog before, unless businesses in these sectors embrace digital, they will not move forward from where they are now (their 'present state') to where they want to be (their 'desired state').
Businesses in engineering, construction and manufacturing need more help – more help, anyway, than luxury goods businesses for example, which already 'get' and use social media.
In my opinion, some marketers shy away from engineering, construction and manufacturing because they are not glamorous. For me, I love it! I am fascinated by technology and the automation it involves.
Why do you love these sectors?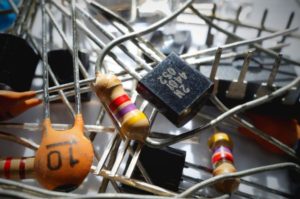 My parents were engineers. My dad worked in the semi-conductors sector for many years, and as a child, I would visit and see how the capacitors and resistors were being made.
I still remember seeing powder being put in a machine, there was a clank, and a perfectly shaped cube came out! I couldn't believe it.
My father travelled for work and once brought himself back a pocket microscope. You could look at a spec of dust or see the structure of a tiny microchip. It was amazing. He also brought me back some DIY optical toys, which I loved, and I was able to construct binoculars, a monocular and a microscope.
Was your early career engineering related?
I didn't go to technical college, so I didn't think of myself as a technical person. However, while I didn't train in engineering, after my economics degree, my jobs were in technical, engineering and manufacturing areas.
My first job was in telecoms, where I was working directly with engineers, so I really know what engineers are like and how to work with them and motivate them.
I was in logistics, where I had to be very practical, organised and precise – all the traits that I share with engineers.
When later I worked at Dyson, as part of my induction I had to go back to the manufacturing floor and learn how to build a vacuum cleaner. That was great fun and a fascinating learning experience!
Now, as a social media engineer, I can connect with their world, get on their wavelength and bring my digital expertise to their business.
I show the benefits of social media in a very practical way, using a dashboard to demonstrate the results in graph format, while measuring our success and progress against KPIs (Key Performance Indicators). We keep posting, we keep looking at the data and the level of engagement, all with the aim of increasing our customers' brand awareness.
We know what we do for our engineering, construction and manufacturing clients is working.
Here's what one client said:
Before working with Visually Explained, I had shied away from using social media as I didn't fully understand the various platforms available and how they could work for my business. However, I can see clear results in terms of engagement with our followers, who are growing every month, and the activity has really raised our profile. Yola has made this transition very easy and is energetic in helping to drive our media presence which is helping to get us noticed.
If you run an engineering or construction company and want to talk about social media for your business, please get in touch with the Visually Explained team.